The winners of the fourth edition of the Olivetti Design Contest:
First classifications ex aequo Mateos Flores Karla Guadalupe and Contreras Cruz Miguel Angel (BUAP, Puebla, Mexico) with the Insigne font and Barbara Tedeschi (CFP Bauer, Milan) with the Profile Typeface font.
Third place Mario De Libero (IED, Florence) with the Otello Sans font.
The Fourth Edition of the Olivetti Design Contest has as its theme Type Design: the creation of a new Olivetti typographical character. The company, known always for the priority given to innovation, experimentation and design, demonstrates its desire to carry forward the ideas inherited from Adriano Olivetti by putting artists, young people and designers at centre stage.
Do you want to be the Creative behind the new Olivetti font?
The call for participation is open to all students of Art and Design Universities and Academies at national and international level, who can present a project either individually or as a team member (of 5 components maximum).
The best projects will be selected to contribute towards the development of the new official Olivetti font.
Participating Institutes, Universities and Academies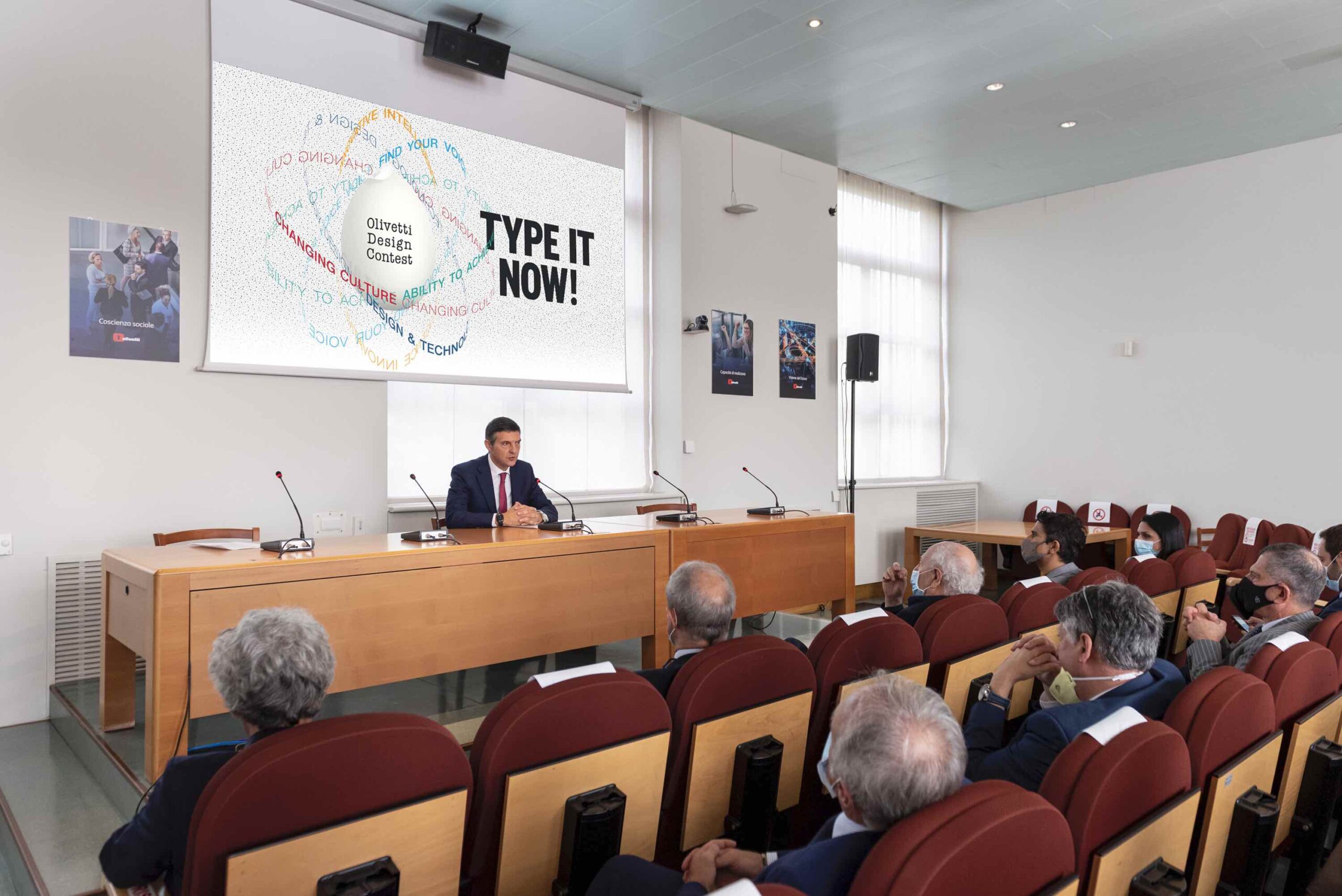 Writing has always played a key role in communications between peoples, leaving behind an indelible trace. For this reason, Roberto Tundo, Olivetti Chief Executive Officer, explains that the genesis of a new Olivetti font could restore attention to writing once again, as well as giving new life to a tradition born in the 1970s in the industrial city of Ivrea.
The study of typographical characters began in the Olivetti Character Design Office in 1974. Since that time, about 657 fonts have been created for the hammers and keys of writing machines that have made the history of product design. Today the glyphs are conserved in the Olivetti Historical Archives Association, Gaetano di Tondo being the President.
The idea behind the new edition arises from a reflection on the designers of today and the need to conserve the heritage of a past so rich in values. A typographical character, Emanuele Cappelli reminds us, represents a linguistic code that allows us to exchange ideas and thoughts between different generations.
Clino Trini Castelli – Jury President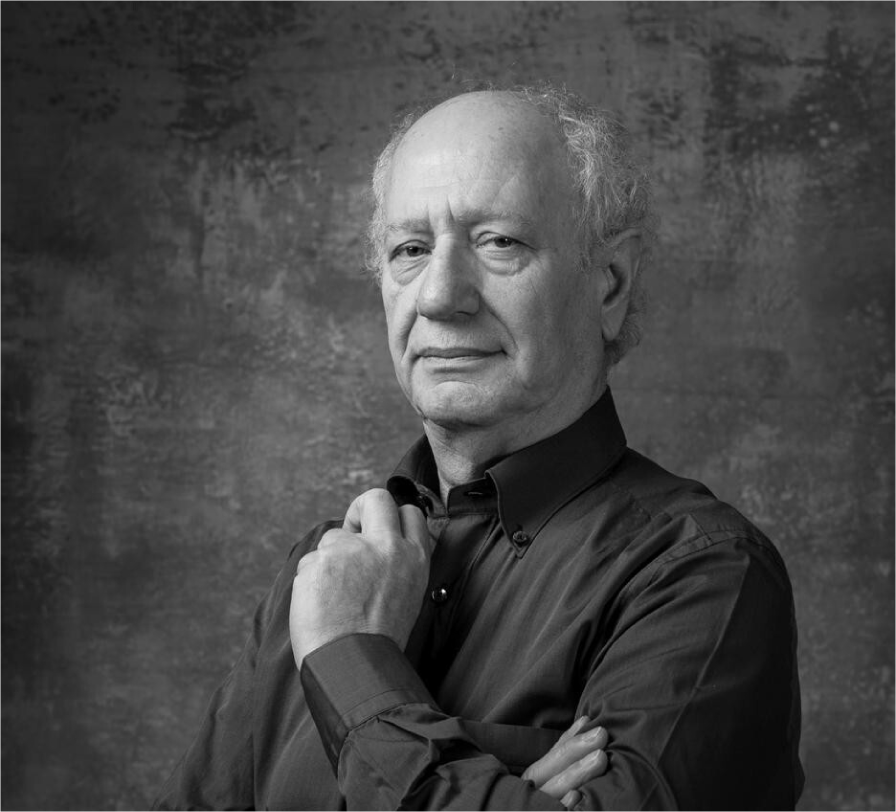 Clino Trini Castelli (1944) designer, artist and design theorist, lives and works in Milan. Known for CMF (Colours, Materials, Finish) design, Castelli introduced the "No-form" renovation of plastic languages applied to industrial products through "Primary Design" tools of which he was the pioneer. Beginning in the 1970s, instead of traditional compositional methods, he concentrated on the metaproject and on more intangible figurative aspects such as material, colour, light and sound, exalting the virtues of a sensorial approach to art and design. From 1964 to 1967 he worked for Olivetti in the Ettore Sottsass studio in Milan. A crucial turning point in Castelli's professional career took place in 1969, when he returned to Olivetti to coordinate the Corporate Identity programme, producing the corporate image Red Books and developing the first ECMA dot matrix OCR character up until 1973. Then again, for the third time, from 1985 to 1992, Castelli returned to work for Olivetti and Olivetti Synthesis on the manuals for the Qualistic Compendium project related to coordinating the CMF identity of products. From 1980 the activity of Clino Trini Castelli expanded internationally obtaining important recognition at European, American and Japanese levels, including two ADI Compasso d'Oro awards.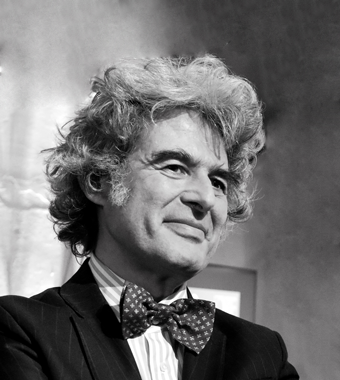 Gaetano Di Tondo
VP, Communication & External Relations Director in Olivetti, and President of the Olivetti Historical Archives Association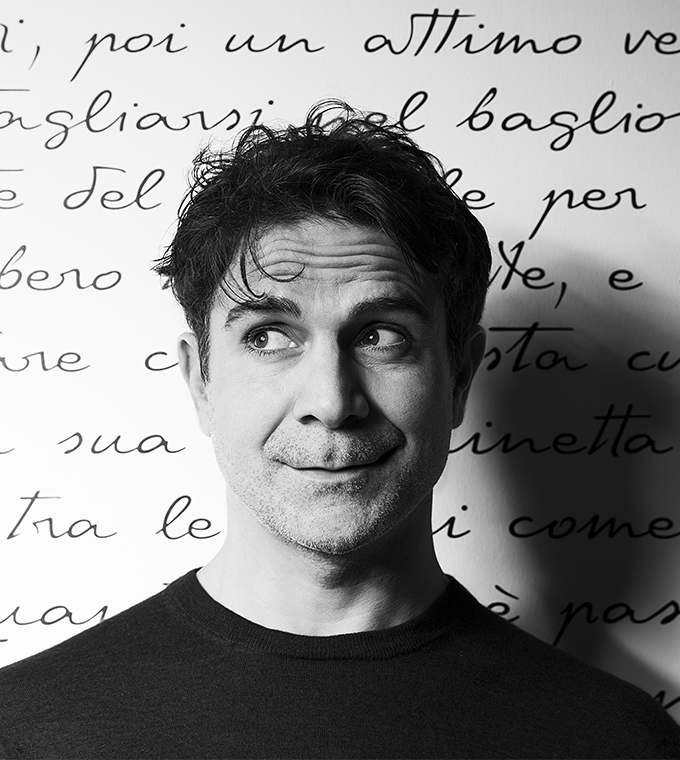 Emanuele Cappelli
Founder & Creative Director
Cappelli Identity Design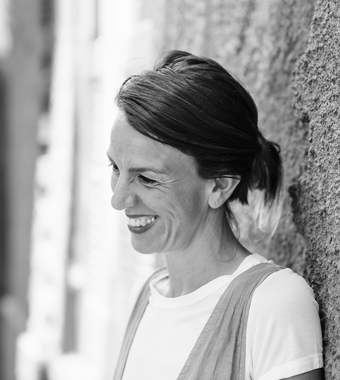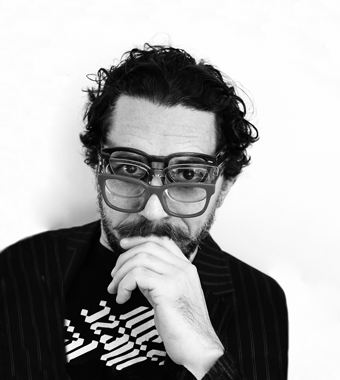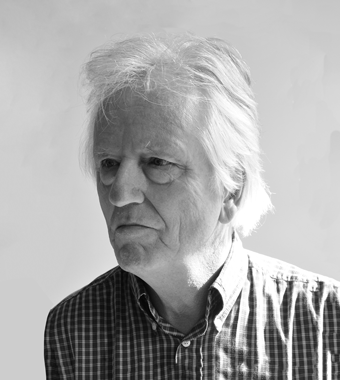 James Clough
Historician and Professor
of Typography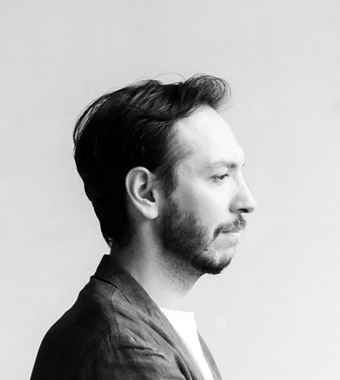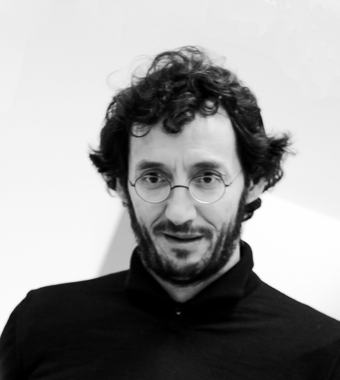 Luca Josi
Brand Strategy, Media
& Multimedia Entertainment in TIM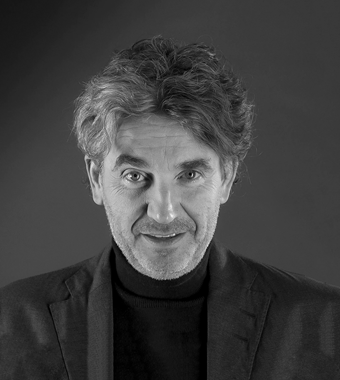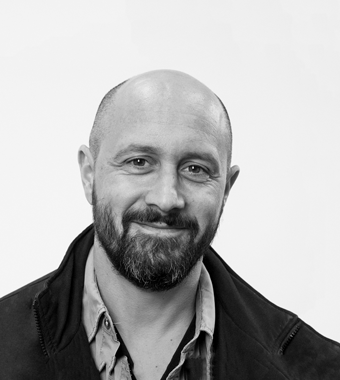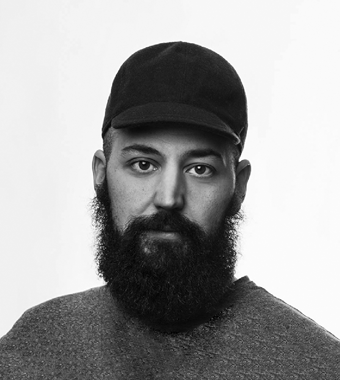 Jonathan Pierini
Type Designer & Graphic Designer
Olivetti Design Contest born in 2016 to promoting the thought of man, industrialist and visionary Adriano Olivetti as well as his values that generated a new industry and design culture.
The symbol of the Olivetti Design Contest, designed by Emanuele Cappelli, represents the birth of the designer of tomorrow. The metaphor is made evident by an egg – which symbolizes the perfection of form – and the feather – which attests its earthly origin.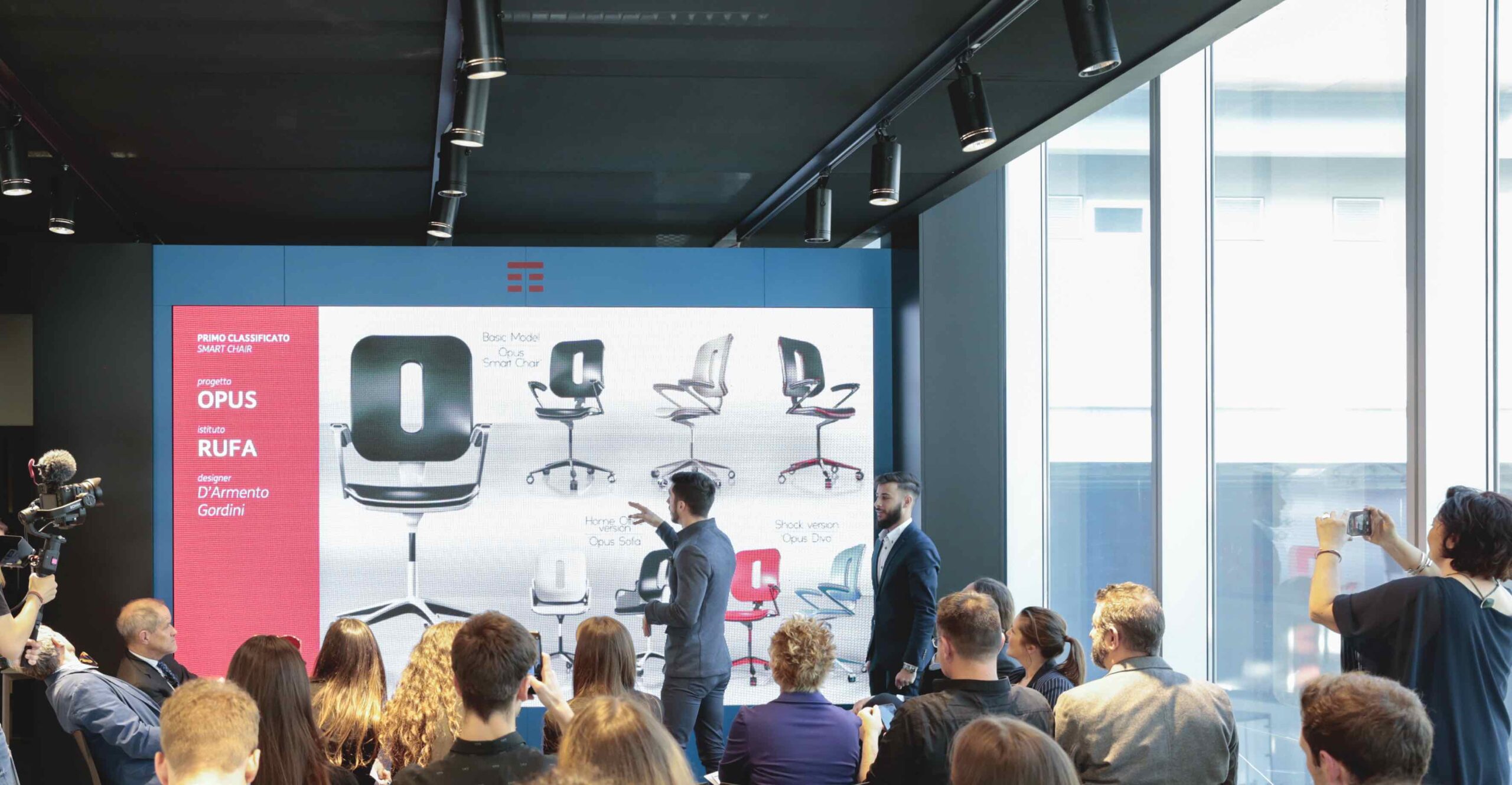 The intention of the Contest is to transmit Olivetti values and creative approach to students attending the most reputed Art and Design Academies at national and international levels.
The challenge in this case – different for every new edition – aims at finding a new model for the process of design, through thoughts and ideas centring on the person.
The activities of Olivetti, «IoT Digital Farm» of the TIM Group, are focused on constructing a suite of products and services able to provide added value for the Group and for the Market, exploiting particularly skills and assets acquired within the context of 5G.
Olivetti SpA – Company with sole shareholder TIM Group – Management and coordination by Telecom Italia S.p.A. – Registered office in Strada Monte Navale 2/C, 10015 Ivrea (TO) Italy – Phone +39 0125 7751 – Fully paid in registered capital of 11.000.000,00 Euro, V.A.T. number 02298700010 – registered at the Turin Chamber of Commerce Company Registry N° 547040
adminpec@olivetti.telecompost.it
Gaetano Di Tondo
VP, Communication & External Relations Director in Olivetti, and President of the Olivetti Historical Archives Association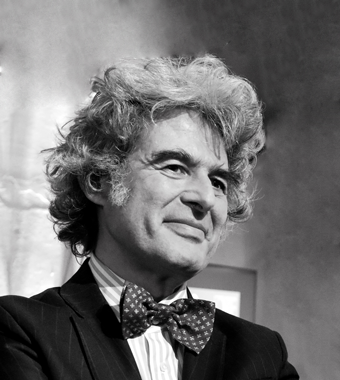 30 years of communication, always passionate about innovation through digital transformation and evolutionary scenarios.
Currently VP, Communication & External Relations Director in Olivetti, and President of the Olivetti Historical Archives Association – within this unique role – he is carrying out a passionate storytelling every day that  links the past to the future through Olivetti's values ​​and projects as follows:
from #StoriaDiInnovazione to #DesignMeetsTechnology
Antonio Pace
Type Designer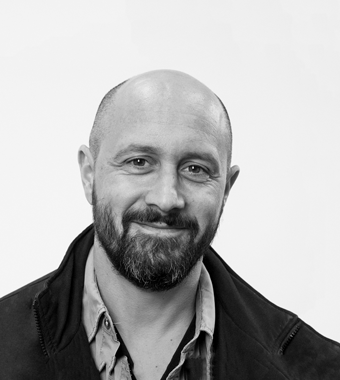 He graduated in Visual Communication with specialisation in Grafikdesign at HfG Offenbach, University of Art and Design in the Frankfurt am Main area.
In 1996 the studio Antonio Pace grafikdesign was founded in Frankfurt and since 1999 the collaboration with Linotype for the design of typefaces began.  He founded AReA Deutschland (Frankfurt) and then he started a partnership with the Inarea network, specializing in corporate branding. Among the projects in the field of corporate, brand identity and corporate communication, it is worth mentioning Bosch Telekom, Aventis Pharma, State and Government of Hesse (FRG federal state), Municipality of Frankfurt am Main, Puglia Region, Benigni&k, Italy-Chile Chamber of Commerce, Galleria Borghese, Bulgari and others. He carried out many corporate type design projects as a partner and collaborator of Inarea, including the Municipality of Milan, La Sapienza University of Rome, Roma Capitale, Atac, Eni, Aci and Ac Milan. For brand identity, he works with Inarea for clients such as Acea, Mumex, AdnKronos, Gemelli, Civita.
Besides his professional activity he held courses and conferences in Universities, Institutions and Congresses.
Jonathan Pierini
Type Designer & Graphic Designer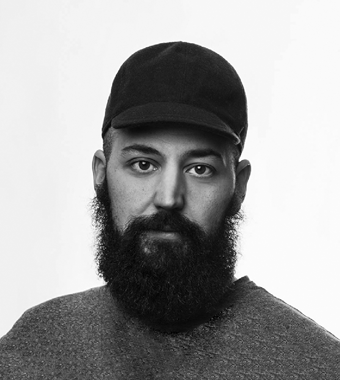 Jonathan Pierini is a type and graphic designer. He holds a BA in graphic design and visual communication from ISIA Urbino and an MA in Type and Media from KABK, the Royal Academy of Arts of The Hague in the Netherlands.
After a number of experiences with graphic design offices and various universities, Jonathan moved to London to work at Dalton Maag Ltd type design office (2010/2011) where he contributed to the development of custom types for companies such as Nokia and HP. Between 2011 and 2017 he worked at the Faculty of Design and Art of the Free University of Bozen Bolzano, as Researcher and Assistant Professor in Graphic Design. In 2013 he was visiting researcher at the Akademie der Künste in Berlin.
Since September 2017 Jonathan has been Director at ISIA Urbino where he currently serves as professor of history of printing, type and graphic design. He is editor in chief of Progetto Grafico magazine. His research interests deal with topics related to design education, history of graphic design, and designing for the public.
Emanuele Cappelli
Founder & Creative Director Cappelli Identity Design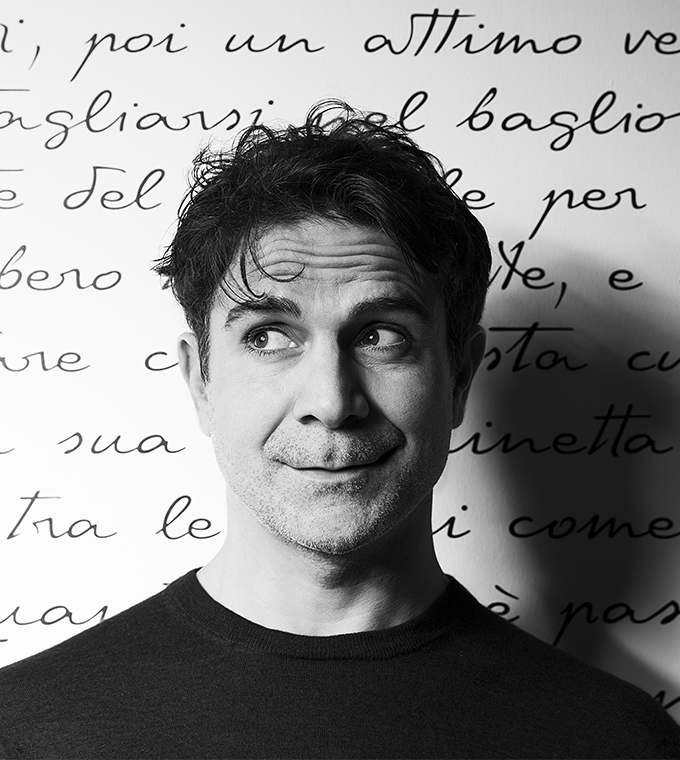 Emanuele Cappelli is an Italian designer, founder and creative director of Cappelli Identity Design studio. and creator of the Olivetti Design Contest. He is also one of the creators of the Olivetti Design Contest.
 As the founder and leader of the Cappelli Identity Design studio, he takes care of the image and the communication strategy for major Italian and international brands. As one of the pioneers of Dynamic Brand, he has been the artistic director of the Venice and Cannes film festivals, and he has collaborated with world-famous artists, designers and architects.
Since 2003, he has been teaching across Italian and foreign universities.
Luca Josi
Brand Strategy, Media & Multimedia Entertainment in TIM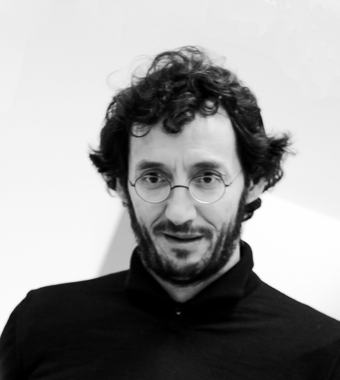 A former professional journalist, he was secretary of the Socialist Youth Movement as well as a member of the leadership and executive of the PSI (Italian Socialist Party) from 1991 to 1994.
He founded the group Einstein Multimedia of which he was President from 1994 to 2013. He founded the Patto Generazionale in 2007.
He is currently a board member of the TIM Foundation, for which he oversaw the recovery project of the Mausoleum of Augustus and directs the Brand Strategy, Media & Multimedia Entertainment division of TIM.
Matteo Bologna
Designer Mucca Design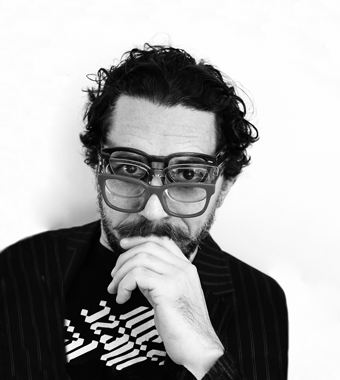 Matteo Bologna is the founder and creative director of Mucca Design. 
His multidisciplinary background in architecture, graphic design, illustration, and typography facilitated his early business successes and inspired his decision to create a New York branding and design agency. Under his lead, Mucca has solved numerous design challenges and created uniquely successful work for global companies like Sephora, Shinsegae, Whole Foods, Victoria's Secret, Barnes & Noble, Rizzoli, Adobe Systems, and Target.
Matteo is also president emeritus of the Type Directors Club and former board member of AIGA/NY. He frequently lectures about branding and typography around the world.
Lorenzo Fanton
Designer Pentagram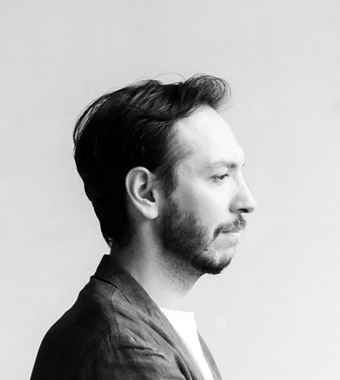 He is a graphic designer and art director based in New York City. He has experience in brand identity, editorial design, packaging, and digital design. 
Lorenzo is known for delivering concept-driven, clear and elegant design solutions across multiple platforms. Lorenzo moved to NYC from Italy in late 2012 to work with the design firm Sagmeister and Walsh. Prior to his American experience, Lorenzo worked in Sydney, Australia, for the award-winning creative boutique The Glue Society as Art Director. In 2009 he won an art fellowship at Fabrica, Benetton's communication research center.Lorenzo started his career as a graphic designer at Studio Camuffo, in Italy, after a BFA in Design at IUAV, in Venice.
For the past 5 years, he has been working at Pentagram as a senior designer contributing to and leading projects such as the Rotten Tomatoes rebrand, Ready Player One identity, and Cote brand identity. Previously, Lorenzo freelanced in NYC for agencies such as Collins, Ogilvy & Mather, The Partners, Siegel and Gale and others.
Chiara Alessi
Curator & Writer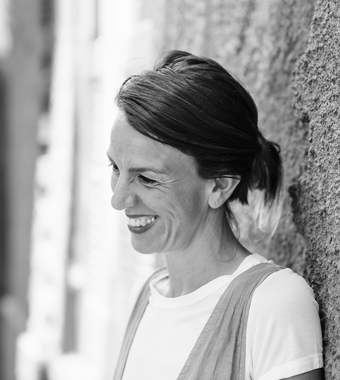 Chiara Alessi (1981) deals with material culture and design, which she teaches and on which she writes and, when possible, curates exhibitions. She is an adjunct professor at the Polytechnic of Milan. She has published the essays Dopo gli anni Zero. Il nuovo design italiano (Laterza, 2014), Design senza designer (Laterza, 2016), Le caffettiere dei miei bisnonni (Utet, 2018) and Prince, Il corpo del figlio with Marius Ani Olulakolè (People, 2020).
During the 2020 lockdown she launched her Twitter column #designinpigiama, which eventually totaled about ninety episodes with millions of views, but it was also an opportunity for a growing community to interact, adding historical details or personal anecdotes to the collective story.
In 2021 her latest essay that collects some of these stories came out: "Tante care cose" (Longanesi).
James Clough
Historician & Professor of Typography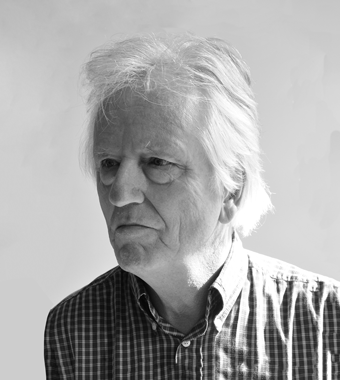 He studied typography at the London College of Printing and since 1971 he has lived and worked in Milan as a typographic designer, calligrapher, teacher and author. 
He currently teaches typography theory and practice at NABA. Besides teaching in Italy (CFP Bauer in Milan, Milan Polytechnic, ISIA in Urbino), he teaches in the USA, Great Britain, Switzerland and Turkey.  In 2014, with Tipoteca Italiana, he published Alfabeti di legno, the first history of wooden characters in Italy. In 2015, with Lazy Dog Press, he published L'Italia insegna.
From 2016 to 2019 he wrote a weekly column in La Repubblica about modern and historical Italian signs and inscriptions.
Walter Mariotti
Director DOMUS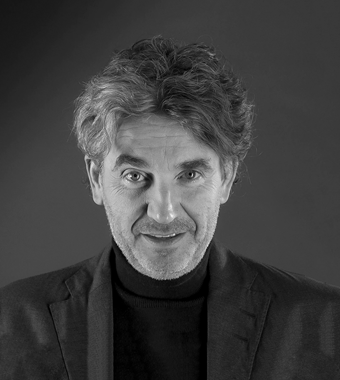 Journalist and Editorial Director of Domus magazine.
Born and raised in the Tuscany countryside, he graduated in theoretical philosophy and his professional career began as a non-tenured researcher and professor at various universities. He then entered the Public Administration as a director in the sectors of culture, public relations and strategic planning. During this time he also began collaborating with the culture sections of newspapers and magazines, with an intense activity as columnist and reporter. After moving to Milan, he became a professional journalist and started conceiving and directing magazines. For Classeditori he managed Campus and Class, including the special series ClassArte. For RCS he conceived and managed I Viaggi del Sole, dedicated to the emerging overclass. For Gruppo 24 Ore he was in charge of the New Initiatives sector by creating English 24, Intelligence in Lifestyle, The Other woman. Hired by Mondadori, he was tasked with conceptually redesigning Panorama, the historic weekly magazine for which he later became Deputy Editor-in-Chief, before being asked to set-up and direct Periferie, the magazine conceived by the architect Renzo Piano who had just been appointed lifetime senator. After his time at the Senate, he was invited by the Swiss company Media Ti to redesign and reposition two newspapers (Corriere del Ticino and Giornale del Popolo) and two magazines (Sette and Extra). During that period, he also became Managing Editor of Economia & Management, the magazine of the Bocconi's School of Management, which he transformed into a multichannel platform.
Founder of QUID, a boutique of culture, economy and strategic consultation, Mariotti has collaborated as advisor for many Italian and international industrial and financial groups, including Italcementi, AXA, BCG, Linklaters, Ministry of Environmental and Cultural Heritage.
In September 2017, he was appointed Editor-in-Chief of Domus. His books include L'economia di Pound, Alfabeto del postcapitalismo, and Bellezza.